bsquirrel


Member Rara Avis
since 01-03-2000
Posts 8382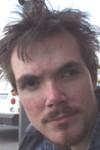 | | |
| --- | --- |
| 0 posted 03-05-2000 02:38 PM | |
---
-the california rain-
I wake up to the sound of gray beats,
Water falling from the roof overhang.
Some drops split apart to puddles on the table,
Others are content with the ground.
Right at the edge of the table, the edge of a circle,
Is where I hear the beat.
Tik tik tik TAK tik tik tik tik tik tik TAK tik tik TAK tik tik …
It's enough to make me get up, plug in my keyboard,
And try to mimic the beat. I have no trouble mimicking nature;
All we need to know is in that watery fall.

Some people are sick of the rain, and I have to admit
If I had anywhere to drive today, I might be one of them.
But in this sudden, prolonged shower,
The trees stand out from the sky,
Make the bland-painted buildings fade into the background.
The sky seems so light as to push the mountains way over the tracks
Right into the street. I swear I could climb their marble-smooth blue purple mottled slate,
I could drive into that color and would come out changed: pure love
(which, of course, would quickly fly away from here).

Soon, this comma shape smooth soft whip profile low cold front
Will be twirling itself further inland, away from our coast,
Away from drenched segments of land and plant and stone and steel;
Northridge, Escondido; El Segundo, Azusa, Arcadia.
On to the greater good of the country, I guess.
But, for now,
On this church absent sunday,
It's all mine to remind me why I have faith to begin with.