bsquirrel


Member Rara Avis
since 01-03-2000
Posts 8382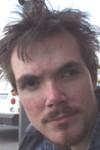 | | |
| --- | --- |
| 0 posted 03-04-2000 02:12 AM | |
---
-home-
It feels like joy,
For years seeping itself sick in a cage,
Is finally standing by an open door,
Free to move about, test its wings,
Learn its voice again.

That song says it's good be on the road back home again. It talks of moving on.
The radio has always given me comfort.
Taken my insight and wrapped it in notes, melody.
Occasional static when driving too far out of the Valley.

At peace. Unafraid to be alone.
There are too many words to share, too many things to sing in wavering heartbeat voice to waste time with belittling toys.

The palms outside are again glistening with rain. L.A. cloudstorm firelight in the sky.
Lightning gives a colored edge to things,
Then blinks itself out to let us think about what we've just seen.

On the road home, the soldiers of night traffic coming so close on my left, I'm surprised we don't hit.

And sometimes the train roars by.
I watch as the mechanized safety arms swing up, blinking their eyes a few times and then going dark, spilling the harnessed night eye traffic,
The train gone for a few hours more.

Back home, where joy waits unseated and sometimes senseless in the dark.
Sometimes I make a mess of things.
My poetry picks the jewels away from the glass in the trash.

I try to keep everything together
With the truth that gives joy its wings.
As much as my place, these words are my home.
I'm not practicing for some future celebrity;
I'm feeding myself, nurturing and hurting and blurting myself to pieces and back whole.
True writers have no control.
With this home I make myself unlost and unafraid;
No fraying holes. No toll to pay.