bsquirrel


Member Rara Avis
since 01-03-2000
Posts 8382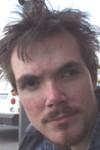 | | |
| --- | --- |
| 0 posted 03-04-2000 01:15 AM | |
---
The h2s has struck again. This is a loooooong one. But fun, too.



Mike

-losing our minds in style-
I can count the tulips in your teeth,
The two lips on your face.
What do flowers taste like?
Does spit stick to lace?
Have I lost my class and caste?
Down on bees knees' with the queen
Telling her please be mean.
I like the sheen of the unseen.
It's like an ocean wave -- dark pulling water.
What's the matter? Go no farther?
What about further? Surely I can fall off a ladder,
Get up, climb back on, fall down again
Followed by a bucket of paint.
Don't mistake me for a saint.
Don't mistake me as a faint outlined etching
Of some dead soul retching. Please,
I have a lot of life to live, a lot of love to seize.
Did you just sneeze? I'd say god bless you
But sometimes he doesn't. Mostly he does.
But it's the times he doesn't that gets us on crutches
Of failed healing, broken faith,
Latches swinging, smoke and wraiths.
Candle smoke staining the altar; holy water, the floor.
I can see my reflection in the mess.
Do you want to confess?
I'd like to undress
And forget why I'm a whore. Why the door
Locks and leaves me unsure.
I'll sit on the shore. I'd love the taste of more.
But down at the core,
Sometimes I wonder what we, our keys, are for.

I'll tell you though, the sunrise
Is a comforting surprise to surmise why the skies can catch fire and not cook us to fries.
I can see in your eyes you're still too in love with lies to understand the whys of why I'm fine abiding time here alone.
Look at the ocean foam. Don't you wish we could bring that home? It'd go well with the framed sticks and bones -- the losses we pretend not to bemoan. The classes we failed, the times we gave in to wordless wails.

Pleasure is a darkly shining treasure;
Take it in the proper measure. Anyway, I could on on like this for hours. But I'd much rather know why you're eating the flowers.
I hope you haven't decided to lose your mind again. C'mon, friend; it's late. There's too much wind.
Let's go in.