bsquirrel


Member Rara Avis
since 01-03-2000
Posts 8382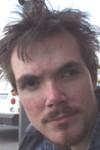 | | |
| --- | --- |
| 0 posted 03-03-2000 01:47 AM | |
---
-23-
If I were to die tonight,
How much would I miss from a full life?
I never would have lain with a woman,
Truthfully or otherwise.
I never would have felt so free
I could trust fully in god again.
And I never would have figured out
All the different flavors of wines.

I never would have been able to look at my watch
A billion trillion quadrillion more times.
I would have missed out on so much music,
So much other entertainment and intellect
That I never would have realized.

I never would have a group of support
To give me others to fall against sometimes.
I never would have seen New Hampshire again,
Nor experienced my first California earthquake.

I never would have been able to say sorry to some people;
I'm glad I left you to others.
I never would have finally found a voice or identity
That didn't waver darkly by candlelit words.

My heart flutters -- it feels like a shortness of breath.
I am reminded of the very small but very real possibility
That my heart could
die.
Born with this damn syndrome.

Even the strongest of wills
Falls
To the reality
Of physicality.

Even so, I am a stubborn sunuvabitch.
I'm going to find old age in my features,
Not just my insight.

And I'm going to accomplish as much as I possibly can.

No, I am not ready
To die.