Seymour Tabin
Member Empyrean
since 07-07-99
Posts 32119
Tamarac Fla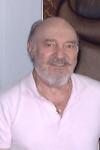 | | |
| --- | --- |
| 0 posted 02-28-2000 12:21 PM | |
---
Illusions coup

Nightgown illusions baked to a brown,
Are basted with the ego of clown.
Kneeded the dough, sprinkle with flower,
Baked in a mind, on the highest power.

When served with a wine of your choice
Offered in your tenderest voice.
Lit candlelight to set shrewd shadow,
Played music of a malleable rondeau.

Warmed air with pleasant conversation,
Unveiled in this prettiest equation.
Must be tooth picked to see if it's through
And if it is, then you've baked a coup.

But flighty are the illusions of most,
They start with a boast, go out like a ghost.
Very few finish to a perfect brown,
Expressly sauced with delusions clown.

You must always check illusions coup,
For if you do not, you pay what's due.