Rosemary J. Gwaltney
Senior Member
since 08-26-99
Posts 1064
northern mountains, Idaho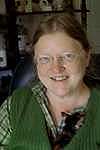 | | |
| --- | --- |
| 0 posted 02-26-2000 04:54 PM | |
---
You cradle me tenderly in our waterbed, while the
still-winter slanted sunlight pours through the lattice work on
the deck outside our upstairs castle tower room. A light wind moves
shadows from the firs against the house, before
the sun creeps round the edge
of the wall.

Our breathing braids together,
like our hair, both heads still blonde, though
with a sparkle here and there; and in this gentle dawning,
you reach for my hand, and we lie quietly side by side,
while a perfect sleepy peace enfolds us like
our light down comforter.

The tiptoeing in of spring, with its
fresh breezes and bright colors, finds our love
ever growing, ever deepening, like the rich greens
of aspens spreading overhead, and cherry blossoms fragrant
in a wind warm as your smile.

We loved so early, so
fierce and strong, it grew with us
like a hot blood in our veins. Yet I always
count the time of our love in celebration and awe,
that after thirty-seven years, and after all the fires we've walked
through, the sight of you still thrills me so. Each dawn,
when I open my eyes, I'm always a girl again,
just for that moment with your dear
face next to mine.