bsquirrel


Member Rara Avis
since 01-03-2000
Posts 8382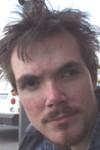 | | |
| --- | --- |
| 0 posted 02-22-2000 11:51 PM | |
---
h2s.

-nothing has no edge-
Love.
That was an edge I leaned into
With full bodyweight, full deadweight.
So much preening and pulling and pushing,
Ah ah ah. Oh, love. Yes, love.
So many golden gears twirling splendidly
Without a jerk or twitch if the well-oiled machine.
Behind glass.
Once exposed to air; collapsed.

Anger.
That was a sharpened edge.
One I pressed my wrists and other exposed parts
Into often. Can you see my eyes?
Are they leaking tears, blood, or sap?
Machine oil? Is that what you see?
You're very astute. It was the oil
From love that blinded my eyes in smoke and soot.
So much leftover grease.
That's how you make your peace.

Loss.
That edge is so quickly there and gone,
Like a crack of lightning -- a whole line of it.
Sniff it off the table, all that electricity inside.
Doesn't it feel wonderful to be full of something?
To hurry up and get your release over with?
Lots of chipped pieces on a board.
Who's turn is it?
Someone cares about the answer, right?

But, after those three were done,
There is nothing. I can't feel my breath
Or my skins or my bone. I can't
Feel the lump in my pocket.
Is that image sexual?
It shouldn't be -- it's a knife.
If I open it, will you shut your mouth?
If I slide it around and write out words,
Ravage my cells (they're slamming their heads
Into their hands anyway -- hallelujah),
Will that give you enough time
To turn the other way?

Turn the page.
I said turn the page.