serenity blaze
Member Empyrean
since 02-02-2000
Posts 28839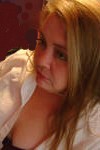 | | |
| --- | --- |
| 0 posted 02-17-2000 08:07 PM | |
---
An unseen mistress,
ignorant of love's misfortune.
Strategems of Love--Justice denied.
and Parker's cruel hands
belong to a man
of questionable taste--promises implied.

Passions strained
like dogs chained,
sonnets dropping clues.
Chinese water torture.
(Bet you kick puppies, too.)

Delusions of allusions
dancing in charade.
I should have been content with Donne,
safely in his grave.

Unseen eyes analyze--
studies love like a bug
rudely pinned...
makes mental notes
of puzzling quotes,
love's voice, mere mimic, once again.

I can not write falsely
for purpose of misleading...
so, "Welcome to the Forum!", luv,
I'm pleased to know you're reading.
But every word,
you should have heard
for years, from my lips, pleading...

Last piece now.
See? It fits.
I'm smiling at
the thought of it.

In closing, yet another quote
from Ms. Parker's wiry hand.
Eloquent, simple and direct,
so even you can understand:

" I do not give a damn."