spiked
Senior Member
since 01-13-2000
Posts 886
Hammond, La USA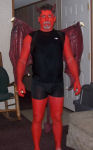 | | |
| --- | --- |
| 0 posted 02-15-2000 11:48 PM | |
---
I talk
You appear to listen.
I confide in you my deepest needs
No response
I ask you a question
You nod
The question I asked didnít require a nod but an answer.
Was the question not clear?
What is it you fear?
Can my love be so wrong?
Do you not see itís this strong?
To entertain such coldness and yet still stand before you.
Look not at me but into your own
As what you need is not clear.
I have shown you what I need
Now you must show me.
If I knew I wouldnít be bewildered by the mere thought.
Each of us view from a different side of light.
In order for us to see things in the same light
We must share the image in our minds.
When combined the image can become one and then
We can share that which we have not.
Unobstructed, mutual love.
Having broken the binds that constricted it.
It can now blossom into what it was meant to be.
Each of us getting what we expected from it.
And growing together for things we have yet to expect.
Ecstasy, Pure ecstacy.