bsquirrel


Member Rara Avis
since 01-03-2000
Posts 8382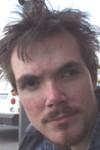 | | |
| --- | --- |
| 0 posted 02-15-2000 01:27 AM | |
---
The first stanza was in my head, and then it all kinda came out.

Mike

-cobblestone sandglass-
The cobbles outgrow my vision,
Way past what I can see.
Dirt from footprints and shoes and soles.
All of those stories waiting to be told.

I've always wondered why s watch resting
Doesn't grow heavy with time.
Increase, increase forever.
Does time weigh nothing; are increases lies?

Then why is there age? Why do cobbles stain?
Chip? Crack? Dry until rain?
Why doesn't everything remain the same.
Is falling, simply defined, a moment too late?

And what about need? What about pain?
What about clouds painting the sky?
Water/moisture mix scrawling faces
And words, lives, way up high.

Personally, I'm glad things change.
I'm glad the leaves fall, skitter, brown.
Because there would be no stories to tell,
No motion in the sky; no hours marked by bells.

No cobbles stepped on by heels,
No cobbles stepped on by boots.
No cobbles stepped on by sandals.
No standard way to see the path of roots.

Imagine all those people who never lived;
You couldn't -- you wouldn't exist, either.
Time kills all, but it also gives birth
To light, colors, weather in the ether.

I wonder why my watch isn't heavy.
I wonder why we don't use time as currency.
Certain it's worth more than we can see.
How do those pinwheel gears keep from breaking?