bsquirrel


Member Rara Avis
since 01-03-2000
Posts 8382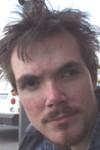 | | |
| --- | --- |
| 0 posted 02-13-2000 06:48 PM | |
---
-your shiny penny-
A distraction helps
But doesn't heal.
Perception deception.

Wade your way to church,
The beach or the promise of more meals.

Flowers beautifully in your hands.
It's time to see where you sit,
Or, finally, where you stand.

Pennycandy wrappers in your purse.
Halls mentholyptus and a book of favorite verse.
Hanky struggling free from steering grip.
H-he seemed so nice. You just wanted a sip.

Sip turned to sedimentary wine.
Fermented taste of fuming sour spilt clouded times.
Split, eschewed, thrown into escrow.
Emptied drain yearns for a taste of water flow.

Words thrown like pennies, copper keys.
Pressing out the torment, struggle,
"Yes no thank you please."
Finding your own voice, choice and chores.
Learning that your way to happiness is solely yours.