bsquirrel


Member Rara Avis
since 01-03-2000
Posts 8382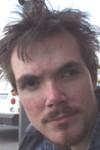 | | |
| --- | --- |
| 0 posted 02-12-2000 04:46 PM | |
---
-late winter daylight-
When I looked at the announcement in the newspaper,
I couldn't help but smile.
Cruelly, but a smile.

"The production of 'Everything Dies in Winter'
Will have its opening postponed two weeks
Due to the death of a family member
Of the cast."

Sympathy, yes. But unfounded.
I didn't even know these people.
I was more interested in the irony
Than the actuality of their pain.

These actors, faces painted up (or down),
Voices trembling in remembered emotion
Faked for our entertainment and our fake devotion,
Now bitten hard without a stage or frame.

Slammed over the head, brought down
To earth again. A reminder that art is at best
A humankind rambling. That life
Is not something we can fashion to our liking.

Loudened silence, laced with windchimes
And weedwhackers. Like the sound of a radio
After the power is cut.
Everything around seems to breathe, though not alive.

Art is a universe of mixed signals, imagined
To try and understand our place.
A mess of untidy emotion snipped and clipped
To fill space just right. Keep pace.
Give rhyme a life without a face,
Singsong your soul without the grace,
Multiverse your worth without a place.

In this late winter daylight,
Separated from chaos by walls and windows,
I smile at the paper,
Chaos' walls and windows let inside.

There's too much to do to waste time and hide.
Stand up, get hurt, fall flat, get up again,
Fall, burn, rise, sink, stand where you are.
And rise, find your light, your time, your eyes.
At least try.