bsquirrel


Member Rara Avis
since 01-03-2000
Posts 8382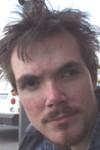 | | |
| --- | --- |
| 0 posted 02-12-2000 01:31 AM | |
---
-up-
taste of mint. mirror glint.
crumbled flint. ended stint.
bottle of wine. some fun times.
some bad times. untaken climbs.
flowers and cards. truthful stars.
deceitful words. worthless scars.
making do. feeling okay.
playing the game. feeling the same.
reflect, regret, inspect, impress,
undress, confess, regress, lost less.
repress, redress, relieve distress,
relive the mess;
exit, guest.

camera film can't tidy up the edges.
old love letters can't fire it up.
fireside music can't fill you to bursting.
what's in yr cup can't make you go up, up, up, up.

dismiss the flowers in her hair.
there's no bliss in what can be found there.
don't bother with trying to remain friends, man.
just get up, walk out, leave her out of yr plans, man.
don't falter and flatter yourself with her view of yr life.
scatter her questions, answer none truthfully.
leave the symphony of sympathy and the past behind.
and beautifully, undutifully, make yourself; right.