bsquirrel


Member Rara Avis
since 01-03-2000
Posts 8382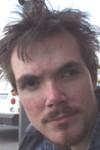 | | |
| --- | --- |
| 0 posted 02-07-2000 02:12 AM | |
---
Another from head to screen moment. Slowly.

Mike

-you tell me where to sign-
I watch the clock's hands slowly move the air.
This time last year, mine would have been in your hair.
But snap snap snap, we broke away, faux care.
And though I feel uncourageous,
I'm not going naked, foolish, bare.

There's books on the shelves under the shadow of the clock.
Sometimes I still hear your voice, though we no longer talk.
And when the phone rings, I watch it till it stops.
Sometimes it rains, big fat ground-hungry drops.

Sometimes I can't taste the drink set on the edge.
Sometimes I can taste snow and rocks; like jumping off a ledge.
But more often than not, I'm happy to be alive.
There's something glowing hot, something of me inside.

Throw some more water on the coals.
Orange light, steam and smoke through holes.
Pine forest ignores the man perched on the ring.
Dirt at his feet, but you better believe he still has the voice to sing.

Somebody needs to give him a place to stand.
Somebody needs to move the shadows,
Walk up and hold his hand.
Just show him where to sign, oh happy day.
Then watch him throw it in the fire,
Watch it burn away.

He will smile, and he will walk on.
Embers thrown to the dusk, smoke floated to the dawn.
He doesn't need a paper to sign, to fit in.
He'd rather find himself before someone else again.