Little_Spyro
Senior Member
since 01-09-2000
Posts 665
San Diego, CA, USA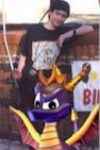 | | |
| --- | --- |
| 0 posted 02-06-2000 06:21 PM | |
---
A short, black shadow fell
Over the swaying grass
The dragon returned!, but not so well
Yet he marched back, bold as brass;

It seemed he'd not been in years
Back to this crowded place--
When he left, there were no tears
As he set to find his pace.

He has returned now,
No one knows how;
They'd thought he was gone.
They weren't wrong.

Shadow turned flesh as he hit
The ground, from being so tired;
Weary and weak, the dust he bit
As his last strength expired--

But alas! An angel come
Once more to resurrect
The fallen poet, his job not done
Some work you all still expect
From me, right?
I had to fight
Just to return.


______________________________________________________
I wrote this shortly after I was unbelievably overloaded with homework assignments--about two days ago. I just had to get a break, but there was no window. So I had to wait until now to finally relax...
I'm sorry to announce that you guys won't be hearing from me as often as you did when I first came here. But I'll post as often as I can...

You guys (and girls) are all great!

Little Spyro T. Dragon


P.S. To all you new members who are out there--please be patient! I'll get a welcome poem out to you guys soon, I hope!




[This message has been edited by Little_Spyro (edited 02-06-2000).]