bsquirrel


Member Rara Avis
since 01-03-2000
Posts 8382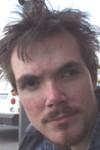 | | |
| --- | --- |
| 0 posted 02-05-2000 01:40 AM | |
---
I just wrote this one straight from my head to the screen. The pun at the end shows I'm cheering up a little.

Mike

-shuttered-
There are roses rotting behind the shutter.
The man who grew the briar tried to knock them out,
But the thorns were sharp, unclean,
Painful to his tired hands.

Gloves only caught more of the same,
Plus magnified the color of dirt
And made the man's hands itchy,
Sweaty, uncomfortably trapped.

The smell of the roses rotting
Was cloying but not unpleasant.
Was death and shadows and lack of growth
Supposed to smell this sweet?
Like perfume and peat?

He sat down on his step, spade shining light
Caught from the sky at his feet.
He watched a bug move across cement specks,
Shadow wires lengthen down the street.

By that time, it was cold;
Time for the man to go in.
But he just sat there,
Realized his lies lacked thought,
And noticed his lilacs growing in.