bsquirrel


Member Rara Avis
since 01-03-2000
Posts 8382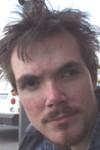 | | |
| --- | --- |
| 0 posted 02-03-2000 10:25 PM | |
---
-sadness-
Sometimes, sadness is comforting, familiar,
Like a favorite blanket, choicely unraveling.
Hunkering in front of the television screen,
We live out lives of friends and neighbors.

Other times, sadness is beautiful -- its sheen
Casts light over darker recesses, crevices,
Problems and permutations of problems,
To remind us nothing is really wrong.

Sadness can be the ticking of a clock,
The scent and taste of raspberry cake.
A favorite mistake
Rolled on the tongue.

Written out in words, sung out in song,
Trimmed to fit situations.
Clipped expanse; short, long.

But right now, sadness is overbearing.
Lifting me, lurching, down to the ground,
Where among soil and petals, trash,
I feel dirty, useless. Bound.

The trick is to find joy
Even in something as small as a bee.
The trick isn't a trick at all.
It's beyond fork tines piercing raspberry.
It doesn't crumble, candles don't sit in it,
On it, or beside.
It's not about the color of lights,
How fast you can go in your ride.

I'd like to say it's all about love,
But even that I'm not sure.
I will say it's something
Barely felt,
Something clean, unbroken. Pure.