Little_Spyro
Senior Member
since 01-09-2000
Posts 665
San Diego, CA, USA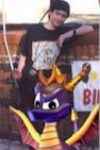 | | |
| --- | --- |
| 0 posted 02-02-2000 06:39 PM | |
---
Down from the banisters
The brilliant flags rolled;
Many new canisters
Of fireworks explode;
This was a day of celebration!
This was a way of exultation!
I think it's agreed and sensible:
New poets are indispensable.
Welcome to Passions, Rex Allen McCoy!
There's a lot of skill that you employ;
Welcome as well to you, Laurel,
Your poetry weaves an enchanting spell;
Greetings to you, Once Upon A Dream--
Great is the work from you I have seen;
Salutations, Arabian Knight
Your talent for rhyming shines very bright;
And hi there, Mariee66!
Your poetry with feeling's a perfect mix;
Hello, Manifested Destiny!
Your writing is great, I can see;
Welcome to you, The Haunted Poet
Lots of respect you'll get, I just know it;
Greetings and hi to you, Cordell*,
You excel in your work, you write very well;
And welcome to you as well, Me2
I wish I could write as good as you;
Alina Le Ann, greetings and hi!
Your poetry's up there, much higher than mine...
blahboy, I hope you like it here--
This is a place I now call dear.

If any of you I've missed so far,
Please do tell me who you are!

I'll try and keep on updating this!


A very big welcome to you all,

Little Spyro T. Dragon

___________________________________________________
Note: I'm sorry I couldn't write you all individual poems, I just don't have the time for it, now that my schoolwork has speeded up tenfold...I'm sorry!



*Cordell, sorry but I couldn't think of a complimentary word that rhymed with "Pennix"...but I'll try again later!



[This message has been edited by Little_Spyro (edited 02-02-2000).]