bsquirrel


Member Rara Avis
since 01-03-2000
Posts 8382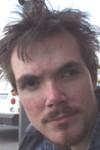 | | |
| --- | --- |
| 0 posted 02-02-2000 12:31 AM | |
---
-dead and rose-
Slain in mud, red river debris.
Bullet grids clapped in quiet street.
Helmet hardly helped at all.
Which dead kid owned that ball?

Shiny purple bubble
popped under tank treads.
Frozen clockwork,
sprung open, dead.
Fed to the ground
in coils and gears.
Bombed rubble,
plants grow through chairs.

For all those who have died,
I place this rose in the water for you.
Victims and lost survivors of all kinds --
accident and war.

A kiss absent thorns.
Standing, bobbing,
Red and glowing with sun.
We love you. We do.
We miss you, all of you.
Sinking, sunken.
We love you. All of you.
We miss you. Yes, we do.
One petal left facing the sky.
We love you. Yes, we love you.
We love you. We miss you.
The sky grows clouds.
The sun has bowed.
Flower, hottom; gone.