Little_Spyro
Senior Member
since 01-09-2000
Posts 665
San Diego, CA, USA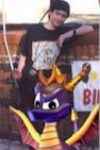 | | |
| --- | --- |
| 0 posted 02-01-2000 06:54 PM | |
---
It was a day that was boring
So I left home and walked away.
As I was exploring
Someone was adoring
A picture I had made.

I had posted it only days before
And the man got a closer look.
He watched it some more--
Then fell to the floor!
Quickly he made notes in his book.

The man gone, I walked to where
He had seen the picture and sleuthing.
I looked around there--
And got quite a scare
As I saw that the picture was moving...

A tiny dragon was writing on
The surface of the sheet--
"Please get me out, and don't take long."
I could have sworn that my mind was gone;
Maybe it's just the heat...

"No," I read, "you're quite sane.
I wish I could prove that it's true--
This isn't a game
Not a hoax or a frame;
I've got my trust in you
So please trust me."

The ink of life I needed,
Looking for it I proceeded.
Over this challenge I would preside--
For I had the ink, deep inside.
I had used it to draw the picture, you see.

Slowly I took out my knife,
made a tiny cut with care,
Gave the little dragon life
And watched as he appeared right then and there
In my hand, it was hard to believe.

To this day he's still with me
Because through reality I was made to see.


________________________________________
This is a very strange poem. If you haven't noticed already, I openly admit it here.

Well, sometimes you just feel like writing these things!