bsquirrel


Member Rara Avis
since 01-03-2000
Posts 8382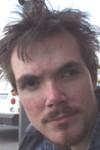 ---
-SEE AGENT-
dedicated to those on flight 261

Sun goes down in a trail over the Pacific.
Black water. Black water.
A skim of debris like broken skin
Quelling on the crests of the waves.

Seagulls and kerosene.
Rescue ships and helicopters.
Infrared light, hopeful search.
Nightsun prayer to aid.

Call this number for more information.
Screen is blank one number: SEE AGENT.
Black water of the deep Pacific.
California sun goes down.