Little_Spyro
Senior Member
since 01-09-2000
Posts 665
San Diego, CA, USA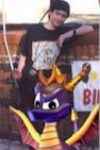 | | |
| --- | --- |
| 0 posted 01-29-2000 04:41 PM | |
---
The dragon stood there up on the stage
With his four-fingered hand on his heart
He knew he was going to turn a page
In history, tearing old views apart.
"I pledge alleigance to the flag,
To which many have served and died
And I pledge allegiance to my kind
Whose rights can't be denied;
I pledge allegiance to a future day
Where we peacefully coexist
It will happen--we'll find a way
This opportunity we won't miss;
I pledge allegiance to all of you
Who are listening to me now
I promise my intentions are true
And I will achieve them somehow;
I believe that one day I'll be safe and sound
Walking 'round a city street
And not get stares from all around
And people that I'd meet;
Dragons have lived in legend too long
But I assure you we're real
We're here not only in myths and song
But alive, you can touch and feel;
I have a dream and my dream will come true
A tale we're no longer merely
I have a dream, and my dream is that you
Will let us join you sincerely."

The dragon stepped down and walked back off the stage
And for moments silence was heard
Clearly the audience was duly amazed
And thought what they saw was absurd
But they came to accept, slowly at first
That the creatures of myth did exist
And quenched at last was the small dragon's thirst
As his people came out of the mists...of time.


"This is our hope. This is the faith with which I return to the South. With this faith we will be able to transform the jangling discords of our nation into a beautiful symphony of brotherhood.
With this faith we will be able to work together, to pray together, to go to jail together, to stand up for freedom together, knowing that we will be free one day."

-Dr. Martin Luther King, Jr.

____________________________________________________
Never really tried a repost before, and I'm not quite sure if it's against the rules here (I apologize if it is), but...I hope some of you enjoy this.

-L.S.