Seymour Tabin
Member Empyrean
since 07-07-99
Posts 32119
Tamarac Fla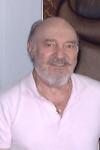 | | |
| --- | --- |
| 0 posted 01-28-2000 11:06 PM | |
---

The proxy of dream

I cannot vote the proxy of dream
Nor can I say its symbol of mean.
I only know I suffer them
And never know the where or when.

They turn the essence of tragic,
Into the tincture of magic.
They play another life for me.
Within a field of greenery.

And offer equal there as here.
With much less pain and more of dear.
So I in truth plead prejudice,
On the side of dreams behest.

And hold it up as real, as real,
With love and even more appeal.
It gives me all without disdain,
Without the loss and all the gain.

It gives me hope it gives me rife.
It gives me love it gives me life.
It sets my rhyme and rings my chime,
So I live there most of the time.

But I'm not here to sell the dream,
I'm only here, to say its seem.