bsquirrel


Member Rara Avis
since 01-03-2000
Posts 8382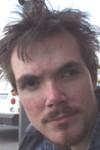 | | |
| --- | --- |
| 0 posted 01-28-2000 12:00 AM | |
---
It's funny ... I'm off for maybe four days max, and I feel like someone gone AWOL. This place has an incredible pull -- and that's both encouraging, and very, very disturbing.



Mike

-get on-
Lash my bones to the phone
So smears of blood
Will drip through as words.
What's worse: your worth
To yrself or the sights
You ingrain to move up and on?
Upon the lowest branch
Is the view of one higher
That breaks when you pull.
Hum a lullaby in traffic
To get you on through yr lull.
Briskly snapped and
Peacefully trapped
And rigidly snapped --
Oh, broken wings.
When settled twigs break,
Do you see shadowy shapes
And spread yrself
To fly into a tree?
Lash my phone to my hand,
So I can take play command.
Lash my soul to the wall:
Sure, I'll slip sideways
But we won't see our fall.