Seymour Tabin
Member Empyrean
since 07-07-99
Posts 32119
Tamarac Fla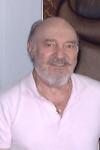 | | |
| --- | --- |
| 0 posted 01-25-2000 11:09 AM | |
---

The juxtaposition of what

Opinions, are a major much or such.
Acceptance, a philosophers crutch or touch.
A catalyst could fix the lot or plot,
All hinging on the undershot of what.

Now take the wind, the huff, the fluff, the puff.
The smallest bit of moving air is enough.
It can be a thought, a wonder, a joy.
Or something just trivial, to annoy.

Perhaps your sitting in a quiet mood.
With friends, relaxing a placid attitude.
When a drift or a whiff of a verbal slur,
Raises the hair on your neck to defer.

That son of a B, so terse you will curse,
Then add some other words that are even worse.
To some, it would be, no more then a tax,
But to others, would be a whole ball of wax.

So if you insist on the apex of tact.
Be certain and sure of all of the fact.