bsquirrel


Member Rara Avis
since 01-03-2000
Posts 8382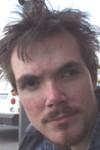 | | |
| --- | --- |
| 0 posted 01-22-2000 01:39 AM | |
---
-belmont's dead-
He had a prohlem,
But he's okay now.
Belmont's dead.
Blueheart pills,
Medicated satisfaction.
Dust & peace.
When he asked his wife
What loving him was like,
She didn't speak.
In glowing light
The TV screen
Gave him the creeps.
Looking in the mirror,
He wondered what made him
Adore glass sheets.
The clock told him
In minute terms
To admit defeat.
No final words,
Just a final reel
Incomplete.
Belmont's dead.
Grab a cup.
Take a seat.
Watch him not breathing,
Slowly, slowly
Watch him reap.
His personal best.
Breath and sickness,
Clouded forgiveness.
Watch as Belmont
Finds himself
In weepless sleep.