Kevin Taylor
Member
since 12-23-1999
Posts 192
near Vancouver, BC, Canada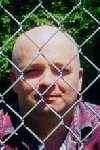 | | |
| --- | --- |
| 0 posted 01-17-2000 12:45 AM | |
---
.
Well, now,
It was sometime in the spring o' 98
Jist 'round M'morial Day 'n th' Land o' Freedom...
'er so they call it.
Anyways, I was sittin' up 'hind them hills...
Y'know, nexta where God 'n' Hell musta had
some sorta fuss 'er 'nother. Sorta desert. Sorta
not.
An' I was pannin' fer rhymes -
I kep' comin' up dry -
when alluvasudden
straight outta the ground
there's this tinklin', twinklin', musical sound.
So I eyeballed the pan and gave her a twitch.
Some verbs an' an adjective peppered the dish.
Good stuff, I s'pose, fer a yarn they'd bin fine,
but not fer perfessional-lookers-fer-rhymes.
So I flipped em a toss an' caught 'em agin
T' see if that tinklin' mightn't be kin
t' th' one that I found t'other side o' that night.
It'd had t' be good, er it wouldn't fit right.
Them poets won't shell-out fer less than a pair
Cuz one by 'tself leaves 'em pullin' their hair.
So ya gotta find more than a couple that fit
Er poets 'll fake it 'n some 'll jist quit
An' some 'll jist hope no one says that it's... Y' know...
Call 'emselves "nou-veau" 'n claim it's legit.
'Nuffa that, I s'pose.

I look fer them twinklin' musical words that rhymes
like the first time they's ever bin heard.
I sure ain't the first one 'ats panned 'n 'em hills.
M' pappy before me turned up a few thrills
N' somewhere er 'nother done found a whole line.
But me, I ain't happy 'nless it'll rhyme.
They're there, I c'n hear 'em, jist tickle the breeze!
I'll stick it out long 's there's poets t' please.
If ya 'spected a yarn, er t' hear miners cuss -
I's pannin' fer rhymes an' not dirt 'n a dust!

Hmph, wha's 'at ya got there?

<!signature-->

Kevin

"Poetry is, at once, what you get... and how you got there."