bsquirrel


Member Rara Avis
since 01-03-2000
Posts 8382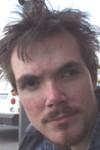 | | |
| --- | --- |
| 0 posted 01-16-2000 02:44 AM | |
---
-spinning songs to the clouds-
Rain is a dream.
A pebblespotted waterflow of emerald wash.
Imagine it bathing the mountains, the hillsides;
Glistening scrub, melted freeways.
Out here in California, it hardly ever rains.

The sky is touched by the crowns of palms.
There aren't many clouds, but a vastless vastness.
Reflections on mirrored facades pouring reflections,
Painting in abstract, earthless perfection.

And, while driving to work, another traffic knot,
I sing in my car to the radio's wishes,
Spinning notes and soul to the sky,
To become in time a cloud.

A lonesome, beautiful reminder of ambition
To make it beyond what's just in view.
Never stopping to fear its eventual poetry:

Burning off, losing small and larger pieces,
Writing out names in temporary contrails.
A final cotton thread over a shadowless sea.