bsquirrel


Member Rara Avis
since 01-03-2000
Posts 8382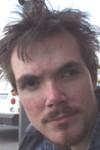 | | |
| --- | --- |
| 0 posted 01-15-2000 03:25 AM | |
---
I had a lot of fun with this one. It actually came to me at work today, after someone showed me a political cartoon of a kid having to walk through a metal detector to talk to Santa. Somehow, the rhyme-y song of the poem was already in my head -- I quickly made a copy of the cartoon and wrote a poem all over it. As you can see, I was more interested in toying with rhythm and rhyme than the actual meaning of words. However, there is an underlying message in this. See if YOU can find it.



Mike

-metal detector-
Metal detector, inspector of the genuflect confector. Vector of surrender for the three-pronged spectre. The center of adventure for the regional inspector. The sick and wily art of making you feel better.

Metal detector: "Offer up you rings, your coins, your keys,
Your damning heings."

Santa Claus is not waiting on the other side to give you back your toys. Pass through, all you criminals, you aging girls and boys.

Metal detector, love of hate's cold splendor. A monolith to regress the depressed -- forged untender; take it all back. A dimly aged light pushing your face to your back. A tall-standing pinnacle --
twin beams of lack.
A mainstay of relic-ed feeling
That will eventually make you crack.