bsquirrel


Member Rara Avis
since 01-03-2000
Posts 8382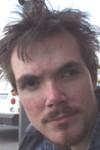 | | |
| --- | --- |
| 0 posted 01-13-2000 01:18 AM | |
---
Yes, there are many sides to this ol' (young) squirrel.



M.

-musicbox starlight-
Walking on the Pacific scrub shoreline,
I found a mirrored musicbox.

Seaweed over the lid,
And too much sand for the crank to move.

I imagined inside the sheltered ballerina,
How she might want to spring into the air.

Would her clothing be soiled and ruined,
Or catch the starlight like shadowed lace?

Would her face be painted with care,
Or in the inextricable writing of a crab's claw?

Would she be standing on tiptoe to tease gravity,
Or simply fall off her stand?

I walked closely to the living water,
Placed the perchless ballerina box in.

Where, no matter what state the person inside,
The box could float and twirl.

And she'd be the first to culminate our dreams,
Meeting the line of the sky.