bsquirrel


Member Rara Avis
since 01-03-2000
Posts 8382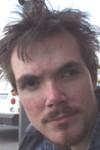 | | |
| --- | --- |
| 0 posted 01-10-2000 11:23 PM | |
---
Talk about a fit of inspiration! I remember reading somewhere that poets are the magpies of words -- they jump around, pick phrases they hear in conversation out of the sand, and use it for themselves. For me, many a poem is born of having a cool title, and just letting the words go where they want to. Here's one of those:

-the news was broken-
Shhhh, the sirens are too rough sounding
On such a bucolic night of broken glass.
See the housewife stepping outside, feet cut,
In slippers staining fuzzy red;
See the husband inside throwing silhouette things --
No longer silhouettes but sailing fragments
Crashing to the lawn.

A chair. A vase. A picture frame.

She, hair undone, eyes unmade, face unknown,
Runs to the modern day savior
Of black and white metal, revolving lights,
Shouts her pleas and moves her ring up and down,
Up and down.

It doesn't come off,
And inside possessions pile on the lawn.

Two rough and gruff men uniformly
Walk past the splinters of wood and glass.
A goldfish is swimming on its side in a puddle.
Under the lights, it almost looks tragic.

He, eyes streaming, hair fallen, mouth screaming,
Continues latching his hands on things
And letting them violently outside. One is
Just a pillow. The next is just a piano bench,
Flurry of sheet music swarming out the open mouth.
The following is simply a piece of china,
Then an ebony bust of some Greek goddess,
Landing on her nose, rolling on her side,
Into the pile of previous projectiles.

As the man pulls a knife from the kitchen drawer,
Shining between him and the other men,
No sound, no breath (only cloth, leather, gun oil).

Then

His breath pours out with automatic tears.
He falls to his knees, one largely gone.
Knife lost grip, sliding across away
As he slides down

And thinks only of the news his wife broke to him
Only twenty-three days from their last anniversary.