bsquirrel


Member Rara Avis
since 01-03-2000
Posts 8382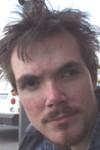 | | |
| --- | --- |
| 0 posted 01-07-2000 12:26 AM | |
---
I know I said I wasn't going to write anything more for a while, but let's be honest, here. I wanted to try something new, so here goes: I'm going to, for the sheer heck of it, come up with a poem right on-screen ... no editing or anything. Just a dry run all the way through, warts and all. Here goes...

-under the sun-
She asked me what's it like to be me?
I was too busy shooting down my luck
With rabbits' feet, matted fur, stuffed
In my pockets like god's great promise.

What's it like to be me? Was this
Her breakup line? Previously, she'd tried
Over the phone to convey her lack of emotion.
I'd hung up.
So this was how it was going to end.

My friend had come over from Arizona for a visit. His boots eere suspiciously free of red dust.
It turned out he lived in Colorado.
What a disappointment.

He came because he wanted to meet her. Now
He'd be stuck with my inscrutable face,
And a place under the sun, under a palm tree,
Under the carbloated freeways with my bickering.

He gave me the feet. Said I could use them.
They weren't even real fur -- dyed weird orange,
And was that a bone I felt? Or a wire?

"Thanks," I told him. When my ex-girl drove up,
I put a bullet into the clouds. No, not real.
Just my words and my grasping last ache.
What a disappointment; but at least the clouds bled.