bsquirrel


Member Rara Avis
since 01-03-2000
Posts 8382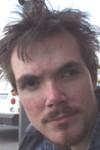 | | |
| --- | --- |
| 0 posted 01-03-2000 11:24 PM | |
---
Once I get more time, I'll get to commenting on other poetry, because I realize that posting your own is only half of it, if not less. But until then, here's a poem I wrote on lunch break today.

-stay inside the lines, girl-
Slow fingers of isolation
Clamp in fists of recognition,
Pounding against the mind's expansion
Feeling lost resolution.

Eyes are empty with confusion,
Feeling dully the contusion
Caused by life's retribution --
What you thought was revolution.

But was it, really? Really, was it?
It was, really? Really, it was?

Words are unsolvable solutions,
Definition refutations
Of what you passed as permutations
For the truth --
Like that would save us?