Falling rain




Member Elite
since 01-31-2008
Posts 2165
Small town, Illinois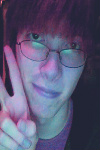 ---
Dear Tori.. I told you I'd get you something for your birthday.. Well little problem is that I live all the way in Illinois and your up there in Manitoba, Canada... So I decided to Wish you a Happy Birthday on here and find you a nice picture (look below)... (Not a great gift but eh.. its as much as I can do at the moment.) So blow out the candles and have a little party!! Woo! Your very special to all of us and I don't know where I'd be without you.



Happy Birthday!!



Sincerely and up most care,

Zach<!signature-->

"Only in darkness can we see the stars.
And only there is it darkest before the dawn."