Sunshine
Administrator
Member Caelestus
since 06-25-99
Posts 67715
Listening to every heart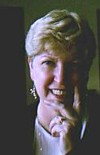 ---
http://thewarprayer.com:80/war_film.html

It's worth the time, today, tomorrow, or not.

It will be up to you.

Another link, if you wish to follow along in verse, would be

http://www.lone-star.net/mall/literature/warpray.htm


My husband, a veteran of the VietNam War, found it very moving.

I had known of this particular work before.

However, if you follow the first link, and watch through its credits? Note the last names of those who participated.

Enlightening, to say the least.