ivordavies
Senior Member
since 01-10-2007
Posts 735
Chester, England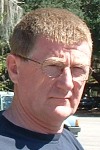 | | |
| --- | --- |
| 0 posted 02-05-2007 06:15 PM | |
---
Last night I wrote a small poem for the front of the 'Order of Service' for Joan's natural dadís funeral. I was offered the choice of dozens of verses from the undertakerís sheet but none of them seemed quite right. I think she was a little surprised when I said I would write this myself.

George had been a 'Big Band Singer' and was also the local Bookmaker for several years. He was born in 1920, married at 55 years old and lost his wife Margaret, who he adored, about six years ago. He had lived with another Margaret for a few years for company and she had had recently moved into a home. George himself had been fairly ill lately, but was still visiting Margaret everyday, either by driving or walking to the residential home she was in, even at nearly 87 years of age!

His step daughter and his second Margaret's son will both be attending the funeral. His brother did not want it to be announced that he had been the local bookie at the church(old fashioned Welsh values), and both his step daughter and his second Margaretís son will be at the funeral on Friday.

Unlike most poetry which only takes me to put pen near paper to write, this short eulogy took me over two hours to find the words to celebrate his life without offending anybody who knew him, whilst still trying to include his love of music, horses(betting) and lifelong sense of fun.




His final song now at an end.
His final race now won.
A Husband, Father and a Friend
All three rolled into one.
Called now by his maker
Freed from all his pain.
He'll join with all the angels
for a heavenly refrain.




Thank you all who replied on my original post, I will be posting quite a lot of poetry concerning my feelings on spirituality and the soul, some of which is from our personal experiences. I know that a lot of you have shared these experiences with us and would offer my thanks for your openness in your responses.

Ivor
<!signature-->

The moment created this second, is a moment that's going to last.
It lives the full spectrum of time, the future, the present and past.