Mysteria








Member Laureate
since 03-07-2001
Posts 19652
British Columbia, Canada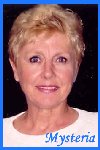 ---
Join local poets as they slam for first place in a rambunctious performance poetry gathering. Great Mexican tapas available. Competing poets can sign-up at the café at 6:30pm.

Call Port Moody Arts Centre 604.931.2008 for information.

Hey, Balladeer I could start a pool, and make money for my holidays if you were up here darn it! I don't think I will ever forget that man reciting what seemed like pages of an epic poem by heart yet. I can't even remember what I wrote yesterday.