Kaoru




Member Elite
since 06-07-2003
Posts 3888
where the wild flowers grow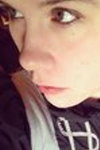 | | |
| --- | --- |
| 0 posted 01-14-2005 04:41 AM | |
---

Things have been hectic here in Minnesota. Right now, the temperature is -10 with a -30 degree windchill (so, it feels like -30, basically). It's soooo cold that my finger just split right where that sensitive area is by your finger nail. Ugh.

Anyway, I've moved closer to a cityesque area, near Minneapolis. It's temporary, I might be here until Summer, but I'm not sure. Alls I know is that I'm here to get my life in some symbolance of order. So far I'm set up to take my GED and driving test (one right after the other), and I have a couple of job interviews. I'm staying with Paul's parents, so they're going to help me out with Freyja when I really need them to.

Speaking of my little demon spawn. She giggled for the first time on Monday, and she's grown from 6lbs 5oz at birth, to 12lbs 3oz. She's got quite the personality! She loves music and my telling her stories. I know she can't understand me, but I believe it's my tone of voice, she smiles everytime. Big, beautiful smiles. -cue sentimental comment- I don't know if it's possible to love her any more without my heart bursting and killing me dead in my tracks -end-.

I hope everyone had a great bit of holidays, now we have Valentine's day coming up! Get your chocolates and cuddles ready!