Kaoru




Member Elite
since 06-07-2003
Posts 3888
where the wild flowers grow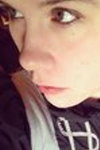 | | |
| --- | --- |
| 0 posted 10-27-2004 12:13 AM | |
---

I've yet to take all the pictures on my camera, which is odd, considering all the photo ops there have been.

Freyja is doing so well, gaining weight and eating more. She's eating so much that I've had to start supplementing with formula. Somehow my milk supply has gone way down. I'm saddened by this, but what little I can give her makes me happy.

I find myself checking on her all the time. I am so scared she'll die in her sleep, which I've been told is totally normal. I've been suffering from the post-partum blues, and my doctor is going to put me on medication and in therapy, because apparently, my case is a little worse than normal. I'll have to start her on formula completely because of my medications.. That just makes it worse, because of the overwhelming guilt.

Fortunately, she is extremely healthy, and doing much better than her mommy is. Of course, she's got little gassiness issues, but we'll work through that.

I got so lucky, she is very mild and sweet, hardly cries.. and when she does, it's so sweet and quiet. Little coos that make my world light up, I wait for her to wake up so I can hold her and give her kisses.

Of course, I never thought of myself as a mother until now.. I didn't think my body could create something so beautiful.

Her next appointment is in November, the day before my next appointment. Hopefully I'll be healed fully by then.

Thanks to you all for reading me, I love to talk, as you can see.