Ratleader


Member Rara Avis
since 01-23-2003
Posts 7179
Visiting Earth on a Guest Pass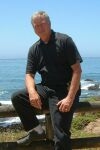 | | |
| --- | --- |
| 0 posted 05-03-2004 04:54 PM | |
---

I got the nicest response from Shamira... ( http://piptalk.com/pip/Forum89/HTML/000713.html ) I just wanted to share it with everyone, since she mentioned the group.


-----Original Message-----
From: Shamira
Sent: Friday, April 30, 2004 10:27 PM
To: Ratleader
Subject: Re: Writing You

Oh, I am so honored and touched and flattered and happy!

[snip] (.... Ahem, you don't get to read quite EVERYTHING!)

You are so gifted with poetry. It's like you are from another time. Like...from the Blake era.

That's so nice of all those people to say such sweet things. I wish I could give them all my little CD as a thank you! When I made that CD, it was such a labor of love. You can't imagine how much it means to me that you recognized that in the music. Well, I recognize the same sincerity and heart in your poetry.