Sunshine
Administrator
Member Caelestus
since 06-25-99
Posts 67715
Listening to every heart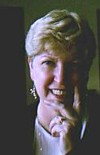 ---

Simply said, April is Poetry Month. Now is the time to check with your local schools, Chamber of Commerce, libraries, cultural groups, etc., in your area to see what is going on in your town/city/neighborhood to celebrate April! Nothing? Perhaps that doesn't have to be so. It is simple enough to call, say, your local first or second level schools, and offer up your talents. Share with the children your love of poetry, and it will come back to you ten-fold!

Our local Arts & Humanities offers up a poetry reading every Tuesday this month. I am meeting friends, and taking my granddaughter [who has expressed her interest, at age 11] to each one, and
I am sure, as I have experienced in the past, that I will walk away inspired, regenerated, and brimming with new ideas on how to approach my own prose and poetry.

April is Poetry Month! Check it Out!