Sunshine
Administrator
Member Caelestus
since 06-25-99
Posts 67715
Listening to every heart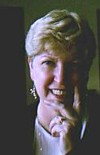 ---

I don't know what was better - allowing my eldest granddaughter to open the box of books that arrived today...or autographing the second book out of the box for her.

It was my granddaughter who put her finger on the book's cover. While I like castles as much as anyone, I do believe this second cover is much better. She said it looked "professional". This, from an eleven year old. The "stucco" appearance makes one want to pick it up just to see if it feels like it looks.

And that's the first bit of magic.

The rest of the magic rests inside, of course.

Thank you, Ron. I know you had the brunt of the work - our thanks will never be payment enough. May you continue to dream big, and may all of them come true.