garysgirl




Member Seraphic
since 09-29-2002
Posts 20064
Florida, USA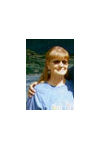 ---

Everyone, I've got a poetry challenge I think will be very helpful to a lot of people...me especially, since I've been down in the dumps the last few days. I've explained it here in the Poetry Challenge Forum....
http://piptalk.com/pip/Forum7/HTML/000567.html

Thank you, all, in advance. I'm really looking forward to reading everyone's poems!!!

I love you all!!!!


Ethel

[This message has been edited by garysgirl (06-24-2003 04:40 PM).]