Kellie_Cantrell
Senior Member
since 05-22-2002
Posts 1680
Washington State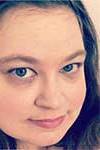 ---
I am teaching next week for two blocks of 45 minutes and I want to do a culminating fun project on my poetry unit that I have been teaching. So far I have covered haiku, free verse, title down and simile metephor and personification. Now I want to make a really fun project involving in artsy stuff and poetry and am looking for ideas from all of you here at piptalk.
If you want to help me with this project please post your ideas here. I do need this infomation promptly as I need to purchase materials.
Thanks
Kellie
<!signature-->

(¨`·.·´¨) (¨`·.·´¨)
·.¸(¨`·.·´¨)¸.·´
*`·.¸.·´*
Love Always
Kellie

I TAWT I TAW a puddy CAT!