Mysteria








Member Laureate
since 03-07-2001
Posts 19652
British Columbia, Canada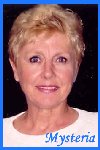 | | |
| --- | --- |
| 0 posted 03-01-2002 01:54 PM | |
---
Hi there,

I know of two great places on the internet. One is for survivors, those currently in relationships of abuse, or those suffering from past abuse of any nature may find of interest. As these topics are very intense to write about, and even harder for some to read who never experienced them, it is nice to know there is a place you can "scream" out those feelings and release them to people that truly understand and can relate. This is a place you can do just that, and people in these situations may find it of interest:

The Survivor's Page (a warning this may not be suitable for all viewers - and should be viewed under supervision if under the age of 14)
http://www.stardate.bc.ca/survivors/default.htm

The Other is a website solely devoted to those suffering various mental disorders, depression, etc. due to traumatic events in their lifes. Depression is not a dirty word, more people suffer than not. Once inside you will see it covers all types of situations that causes one to sit stagnant and not be able to move forward. It is a site run by people that truly care, and the community was created to support one another. It is not just another "pity parlour" this place is fun! If a person is depressed why would they want to keep talking about being depressed? It was created in order for people to see a light at the end of the tunnel and this is a great place to do just that, make friends in similar situations, and have a bit of fun, posting poems, chatting, learning that you are not alone. That is why they called it, "Mixed Nuts", so open the can of nuts, and go have a peek. Here's the link,
http://www.mixednuts.net/

I hope this will have helped someone, somewhere today.

In no way do these types of places ever replace the "one on one" a person should seek when troubled from their own family physician. And by my own admission, this site had no part in recommending these sites to you, I did!


<!signature-->

~* Imagination is more important than knowledge *~

Einstein





[This message has been edited by Mysteria (03-01-2002 02:34 PM).]