Mysteria








Member Laureate
since 03-07-2001
Posts 19652
British Columbia, Canada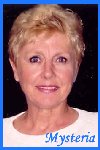 ---
You ever look at the statistics of who visits the main site poetry forums? Sometimes we forget about the main site, but it is there, clicking away. I love to see where all the people in the world come from, and at what rate. Just interesting to me. Look through the various choices of how to look - it's fun! Amazing on the world map where they come from.

Here is the link to where the people are coming from at this moment.

Pip's Site Meter

This place sure makes it a small world in so many ways. Enjoy! This site makes a real difference in this world of ours.

Thanks again Ron.