Sunshine
Administrator
Member Caelestus
since 06-25-99
Posts 67715
Listening to every heart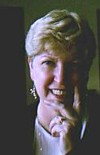 | | |
| --- | --- |
| 0 posted 07-13-2007 08:16 PM | |
---

My day...as far as I know, and it's still early, went very well. Of course, I'm a believer in many things, and that is probably what saved me.

I spoke earlier this week to some new peers about praying to St. Anthony, the keeper of all lost articles. Basically, if it [the lost article] hasn't been stolen, it will indeed be found. And this St. pops up in the strangest places....

And then another lady spoke of St. Teresa...and she shows up as a rose or in the form of a rose or in the smell of a rose, totally unexpected, just before your wish is granted. However, it is always an answer related to your wish, and even though you might not want it to be such, it works out that you eventually realize that what you asked for, was answered in ways unknown to you, but ultimately, the best of all ways...

ah, I see the eyebrows rising. No matter. I am not Catholic, but still, what has happened to me in the last 35+Years according to my help from St. Anthony were things outside of my control; i.e., I just didn't misplace things, they were moved on purpose to "teach me a lesson." And within moments or in less of a half-hour, I was led to find the lost documents. In areas un-searched, prior to my request.

And that was the gist of the others that have spoken to "small miracles".

Give it a try. What do you have to lose? Since you've already lost it.

Now, I'm going to to ask St. A. to look for the last of my real mind...