Allysa



Member Elite
since 11-09-1999
Posts 2307
In an upside-down garden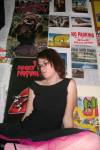 | | |
| --- | --- |
| 0 posted 05-24-2007 01:44 PM | |
---
Regarding myself, a story about a baby, and an upcoming publication..

Long story short, I entered something I wrote into a contest at my University. A day later, someone from the University's litjournal called me, asking if they could pleaaaase publish it in their upcoming journal. I said sure. I mean, why not? I guess someone liked it, and that means something happens with it even if I don't win the contest. And the journal is pretty selective, so supposedly, it's an accomplishment.

Well, we're having a release party for the journal. So they asked for volunteers to read a selection of their work, to show off what is in the journal. And silly, silly me, I agreed to do it. Now, I have six minutes to fill with words, and I haven't the slightest idea where to begin.

For the purpose of this post, I put the piece up on passions: http://piptalk.com/main/forumdisplay.cgi?action=displayprivate&number=68&topic=000518


Any suggestions would be great.
I have no idea what I should read, what I shouldn't read, etc.

Thanks.