Sunshine
Administrator
Member Caelestus
since 06-25-99
Posts 67715
Listening to every heart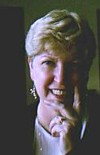 | | |
| --- | --- |
| 0 posted 05-16-2007 09:24 PM | |
---

Other than mothers, we have all received advice, and/or common sense lessons from all sorts of people. We might even advance this into the trivia that follows cultures of "oh my gosh, if your skin shows this line at this age, it means that..."

You know what I'm referring to.

I think I was nine years old, and one of the most supremely skinny kids within my group of peers. Gangly could have been a middle name. Yet, on my forearms, near the inner elbow joint on both arms was a very fine line in my skin. My grandmother noticed this one day, and stated, "this line only appears on people who gain weight." I think I might have weighed all of 68 pounds at the time, and was approximately 5'5".

Well, it took me over 40 years, but I finally managed to gain some weight, and those silly little marks in the forearms are still there, as they always have been, and now they've almost become a comfort zone, only because my grandmother pointed them out, and because of them, I remember her every day.

I have a boatload of other aphorisms to share...but I want to know what some of yours are.

Feel free to elucidate!