Mysteria








Member Laureate
since 03-07-2001
Posts 19652
British Columbia, Canada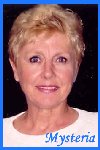 | | |
| --- | --- |
| 0 posted 02-26-2007 01:10 PM | |
---
Good grief! I hate to talk about the weather but, yesterday I just threw on a sweater, and walked the dog a good four miles in the sunshine.

I actually started to sing along with my ipod and was in a great "up" mood. Today, I woke up to snowflakes as big as golf balls falling yet again, and it's cold both inside and out. Oh, I forgot to mention, my heat is broken and still not fixed! One look outside, I grabbed the cat and the dog, and we all headed back to bed. I am sure I depress them too, yup I do. My moods can't take this weather, I feel like the weather is definitely responsible for the moods I am experiencing, otherwise, I need to be medicated, LOL.

So, am I alone in this thought? I have read articles about S.A.D., and thought they were so much "hooie," but I am starting to think that it truly exists now that it hit me! S.A.D. relates to changing of "seasons," but with our weather, what are they going to call it when the season contains each of the four seasons in one season over and over?

Did you get that?

Here is a link to the explain S.A.D. Mayo Clinic